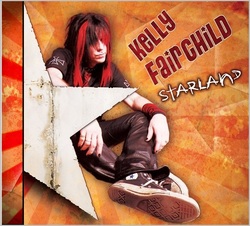 STARLAND, where's the follow-up? All I can say is... I certainly intended there to be one. I planned to write new material and make another album.

The reception for STARLAND was fantastic. Reviews were great, played some very cool shows in Canada and the US, toured a little with some of my best friends playing in the band.

The reality of the 'new' music business online became very clear about six months after the release. Sales were ok, but they didn't match the amount of feedback, reviews and hype we were getting. I was wondering how the word was spreading like it was when the sales didn't seem to match.

Think back to 2008. Even the family dog seemed to be 'finding' music online and expanding their MP3 catalogs. Well, in the first six months of it's release I discovered STARLAND was 'found' in it's entirety over 12,000 times. I'm a believer that it's important to get the music out there. I gave away 100 cd's at the release concert and the same at each Cruefest show in Hollywood. What troubled me is that I saw the album was popular, I wanted to make a follow-up, but the 'actual' sales were not going to support a follow-up. I wont' get into a big thing about the 'right' or 'wrong' of downloading music, but I'll put it this way. Producing a high-quality album, costs a LOT of money. There has not been a follow-up, yet, because the money simply wasn't there. If the people who 'found' STARLAND had paid even $1 for the entire album, I would have made another album. I have to admit, it's hard to wrap your head around people taking something that cost you so much.

The music business has gone through a lot of change since STARLAND was released. 'Downloading' was out of control and the music business was scrambling. Now things have settled down but things have changed. The 'full-length' album is rare and the 'single' is the key. Artists now are finding super success with the release of one song. Crazy, but cool at the same time. And what happened to 'rock' music? Where are the 'rock' bands? The last 'rock' band to win the AMA's was Daughtry in 2008. Yeah... exactly!

So... yes things have changed... but I haven't. I wear leather pants, use Marshall amps, blow fire out of my guitar and play rock n' roll.

I think it's time for a little more ROCK in this world.